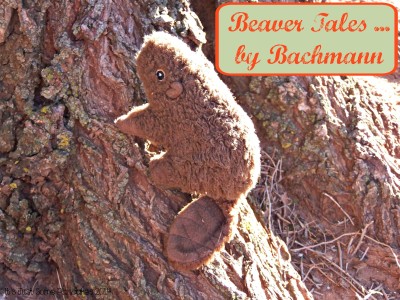 A note from Georgie:
As much as it gives me pause to do so, I have consented to let Bachmann take another turn at having his own column on the blog.  I do not suppose that much of what he's about to tell you is the truth – he's a wily beaver – but we shall see.
Beaver Tales by Bachmann T. Beaver
Growing up on the Little Nokasippi afforded me many opportunities to commune and become one with nature.  One such opportunity was the time my friend Arlo and I decided to 'tube' down the river from the Big River (known to many as the Mighty Mississippi) west of Fort Ripley, all the way to Sebie Lake.
We knew it wouldn't be just a single day trip, so we planned it over a long weekend in June, during the summer between our junior and senior year of college.  Arlo had this beat up old canoe he'd been fixing up since Beaver Day in February.  It was ugly as homemade sin, but he swore up and down on a stack of birch-bark that it would hold up.  I argued that we needed a backup plan, just in case, and so Arlo finally agreed for each of us to carry an inflatable inner tube in our packs.
At this point, you might be wondering why in the world two savvy aquatic mammals would want to travel over the water as opposed to under it.  I'll admit that we are better suited to the submersible lifestyle, but we were looking for a real taste of Americana.  We wanted to experience the blue sky above us and the sounds of the insects and birds around us and the fresh air in our noses.  You just don't see too much in the scenery department when you're swimming under water.  This was to be our last Great Adventure before moving out into the adult world and starting our own colonies.
*As a sidenote, to this day, neither Arlo nor myself has settled down into domestic beaver bliss. I can't speak for Arlo, but I'm certain I don't have any wayward kits roaming around North America, either.  Of course, this is by my own choice – I could have my pick of lady beavers if I wanted.  Arlo, however, has probably never settled down mainly due to a slight physical deformity that renders him incapable of , well … let's just say he can't build a dam to hold water, if you get my meaning.  Also, Arlo doesn't like to bathe, brush his teeth or practice any sort of personal hygiene.  I believe it's a factor in his pursuit of female companionship.
Now right away, I knew this trip was going to be difficult.  Poor Arlo chipped a tooth right off the bat while trying to push the canoe into the water.  He tripped over this backpack straps and went head over asphalt into the nose of the canoe.  I took out my trusty Minnesota Beaver Scout knife with 17 different tools built in and filed the tooth down as smooth as I could.  But it was still causing him some trouble, as it was uneven.  And it's awfully hard to gnaw with an uneven bite.
After we finally set sail, so to speak, and had been out in the river for a few hours, Arlo remembered that he'd brought along a deck of playing cards.  We began to play Gin Rummy, but Arlo quickly got tired of that — I won every hand.  I have a real knack for cards, you know.  We played Hearts, Crazy Eights, Blackjack … Arlo lost every time.  He got pretty frustrated and suggested a game I'd never heard of before – 52 Pickup.  In the interest of keeping harmony in the canoe, I figured I'd be smart to go along with whatever Arlo wanted at that point, so I said I'd love to play.  As it turned out, 52 Pickup wasn't much of a game and after Arlo had scattered those cards all over the water, I inquired as to who was the winner.  Arlo is something of a poor sport and he started ranting and raving, jumping up and down in the boat.  I took that to mean I had won, but it was sort of a hollow victory.
All his yelling and screaming drew quite a bit of  attention from the local Nokasippians.  One old-timer, a muskrat who called himself 'Pete Pete', even threw sticks at us as we sailed by and shouted out, "Beaver punks!"  Now I'm not sure whether he was offended particularly by Arlo's outburst or beavers in general, but he was adamant either way.
We managed to make it around two bends of the river in that canoe before it finally sprung multiple leaks right before we met the Mississippi Fork.  It was there that we had to abandon ship and scramble into our inflatables before a real Titanic moment was upon us.  Arlo argued that we could tow the canoe the rest of the trip and repair it once we landed at Sebie Lake, but I thought that was a real bad idea.  Before I had to present my own dissenting opinion on that subject, what was left of the canoe was caught in a wayward current and swept down the right fork and on down the Mississippi River.  For a minute, I thought old Arlo was going to swim after it so I stayed ready to grab his tail and prevent him from doing something foolhardy.  Just as Arlo lunged for the nose of the canoe as it disappeared into the Big River, though, his field glasses started to slide out of one of the pockets on his fishing vest.  He made a grab for them – they were special because they'd been a gift from his great uncle Gene – and missed his opportunity to grab hold of the boat.  He groused about losing that boat for months afterward.  And I'm not sure Arlo really ever got over it.
Anyway, there we were, two madcap young beavers in the open water.  My inner tube was just as comfortable as my own bed.  I'd found it in an old salvage yard for farm equipment and I think it must have been from a tractor tire.  It was spacious and stable on the river.  I even had enough space to string up some netting I'd stuck in my pack to make a cover over the center hole.  I tacked down a handkerchief or two so I had somewhere to lay my belongings, and the rest made a very comfortable relaxing surface.  Many an hour I was lulled to sleep by the gentle bob and sway of the water.  There's just nothing like it.
Arlo wasn't fairing as well.  He'd really believed the canoe would make it all the way to Sebie Lake so he's skimped a little on the back up inner tube.  All he'd been able to find on short notice was the tube out of a bicycle – and a little bicycle at that.  Arlo said he'd nabbed it from little Marlen Nordsterson's yard when Marlen's daddy was changing the tires out on his tricycle.  Marlen was only 3 that summer, so he didn't have a very big ride.  I doubt if that tire was even twelve inches across.  And it was skinny.  Arlo – not so much.  He'd put on the 'Freshman 15' and then some the first few years of college by eating in the school cafeteria all the time – loading up on all that rich rosewood pudding and mahogany fries really packed on the pounds.  That little bitty tire was really struggling to keep Arlo afloat.  I took his pack on board my own craft, but Arlo wasn't sleeping much and I don't think he much appreciated my attempt to help.
We sailed along for a few more days, finally making it to the sharp bend that flows right into Sebie Lake.  By this time, poor Arlo was pretty wild-looking.  He hadn't slept for about 3 days and hadn't eaten more than a few handfuls of wood shavings in that time.  Every time he took one paw off his tube, it tipped over and dumped him off.  I think he'd probably swum further than he'd floated on the entire trip, trying to keep up to his inner tube.
I knew the end of our trip was drawing near and I have to say, as much as I enjoyed the lazy days of floating peacefully on the water, I was happy for it to be over.  I'd made arrangements before we left for my brother-in-law Donald to pick me up at the Sebie Lake Marina.  I wanted to get back home in time for my mother's birthday the following week.
As we landed on the shores of Sebie Lake, Donald was, indeed there to greet us.  He had a thermos of hot  sap and a copy of the latest issue of Beaver Illustrated, which was most welcoming.  I felt relaxed and refreshed in a way I've never felt since.  Even Donald commented on my vigor and good health.  By the time Arlo wandered ashore, Donald and I had deflated my trusty inner tube and stowed my pack in the back of his truck.  I offered Arlo some sap and he almost pulled my arm off grabbing at it.  If you ever seen someone who wandered in the desert for days without water drink upon their rescue, then you'll have a pretty good picture of what old Arlo looked like sucking the sap out of that thermos.  Donald asked him if he'd like a ride home and darned if Arlo hadn't decided to tube back to the Mississippi Fork and try to find his lost canoe!  I tried to reason with him, but Arlo is as stubborn a beaver as ever there was so I wished him fair winds and went on home with Donald.
When Arlo didn't show up for the first week of classes Senior year, I got pretty worried and was about to take some time off from my own studies to launch a search for him.  But before I could get all the paperwork turned in, Arlo showed up at my dorm room door one morning, looking for all the world like he'd been a castaway on a deserted island for years.  His teeth were yellow and uneven, his eyes wild and hungry.  His fur was disheveled and overly greased and the beaver musk came off him in waves.  I'm ashamed to admit that my old friend scared the vanilla right out of me.
As I sat him down and gave him some refreshments, he told me his story:  He'd managed to locate a slightly more suitable inner tube in the Sebie Lake Marina, this time swiped from a 1987 Geo Metro in the parking lot.  He made it through the fat rapids area of the Nokasippi and ventured out into the Mississippi to find his canoe without incident.  But after four days on the Mississippi, he found himself floating through some golf course community near Brainerd and he'd completely lost the canoe's trail.  He tried back tracking for a few weeks, but never found any trace of his beloved ship.  In despair, he decided to make a new life for himself in Crow Wing State Park, as a tourist attraction and naturalist.  But when the rangers there found him peeping on some female tourists in their campsite, he was thrown out of the Park and decided to come home to finish his education.  After graduation, though, Arlo put together a small band of hippie beavers and set out on another expedition to find that canoe.  He didn't find it then, but that hasn't stopped him from searching for it ever since.  I heard that last summer, he talked one of his relatives into financing a trip to the Yukon because he'd gotten news that a canoe had been spotted there.
Arlo and I haven't maintained the best relationship over the years since then.  We've drifted apart the way friends sometimes do.  But I always think back on that river trip as one of my most defining moments in life.  It was there, as I floated peacefully on the great Little Nokasippi, that I knew I what I wanted from life – to never, ever, become so attached to material possessions, like poor old Arlo, and spend my days chasing a mythical canoe.