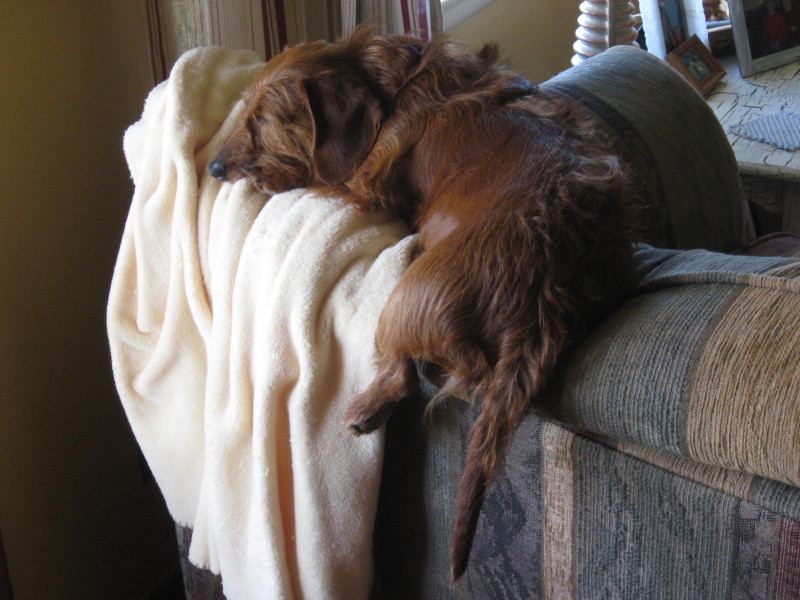 This week, Mama Dog devoted an entire post to me on her blog. As is my due.
Being a generous, thoughtful, considerate, selfless, loving dog – I want to say a few words about her as well.
Where to begin …
Well, for starters, she never lets me out in the morning first.  She always goes to the bathroom herself, then comes to let me outside.  Which I find to be pretty inconsiderate.  Also, she doesn't feed me before she puts me outside. Daddy Dog does, but he rarely gets up earlier than Mama Dog.  And she puts me outside even if it's raining.  Or cold.  Or windy.  Or really hot.  Like I said, no consideration at all for my comfort.
Another thing about Mama Dog that really bugs me – she talks to me constantly.  As though I have the time or the inclination to converse with her all day long!  She tells me about her plan for the day.  (Like I care – I have my own plan.) She talks to me about her feelings.  (Ack!  Is there anything more gross?) She announces every little task or chore she's about to perform.  (Seriously – I do not need to know that you're pouring a second cup of coffee … it's not like you share that hazelnutty, creamy goodness with me anyway.)
She's very clumsy.  She's always tripping over me or stubbing her toes on my shins when I stand in front of her.  It's like she has no control over her gross motor function at all.  And even when I'm trying to move out of her way, she still trips over me by moving to the exact spot where I am.  And she blames me.  She says I'm like VISA – everywhere she wants to be.  Can I help it if she can't step more carefully??  I'll grant you, she does say she's sorry when she kicks me.  But she never apologizes by dropping any of that food she's carrying around the kitchen!
She never sits for very long in one place, either.  Like, if I try to give her support for her "frazzled nerves" and such by laying in front of her chair while she and Daddy Dog are talking in the family room, for example.  I'll just get into a good, effectively supportive position under her feet when she decides she has to get up and go do something.   Or when she's "working" at the computer and I lay on top of her feet to show how much I care … what does she do?  She has to go to the bathroom.  Or change over laundry.  Or take care of one of my human siblings.  It's just rude, the way she jumps up and dislodges me quite brutally, leaving me lying on the floor only half-awake.
Some of her other problems, not necessarily in order of how much they annoy me …
She's a very neat eater, which means she almost never drops food.  Even when she can clearly see how very hungry I am.  
She's way too independent.  Everyone knows a Bathroom Supervisor is crucial to proper bathroom procedure.  But would you believe she tries to go on her own all the time?  And then I have to run in there after her to make sure she's doing it right.  What a chore!
She never takes me anywhere.  She claims that just because I get a little carsick that I shouldn't travel much.  I only threw up that one measly time … and that was on Daddy Dog anyway.  If he doesn't care, why is she making such big deal about it?
She never wants to watch the television shows I want to watch.  "Zombeaver" looks like an incredible cinematic masterpiece and I think she's being narrow-minded in not letting Bachmann and I watch it.
She is CONSTANTLY taking pictures of me.  I can't nap.  I can't eat.  I can't supervise my Companions without having her camera all up in my business.  I'm not sure what she does with all the photos, but so far, I haven't seen a dime of compensation for all my inconvenience.
She's not entirely bad, of course.  I mean, she does have a few good qualities.
For example, she tells me all the time how beautiful and smart and clever I am.  Which is all true, of course, but it's good that she recognizes my attributes.  And she has an Amazon Prime account which means she can buy my cookies and get them delivered fast, fast, fast.  Because I don't like to be without cookies.  She did set up this blog for me, too.  But it was all my idea so I don't know if that counts in her favor – she might just be riding on my tail, so to speak.  Oh, and she makes sure I have clean water to drink.  So, you know, she knows how to provide basic care for another living being.  Woo hoo.
So.  There you have it.  Some words about Mama Dog, in return for the feature she wrote about me on her blog.  Good Day.