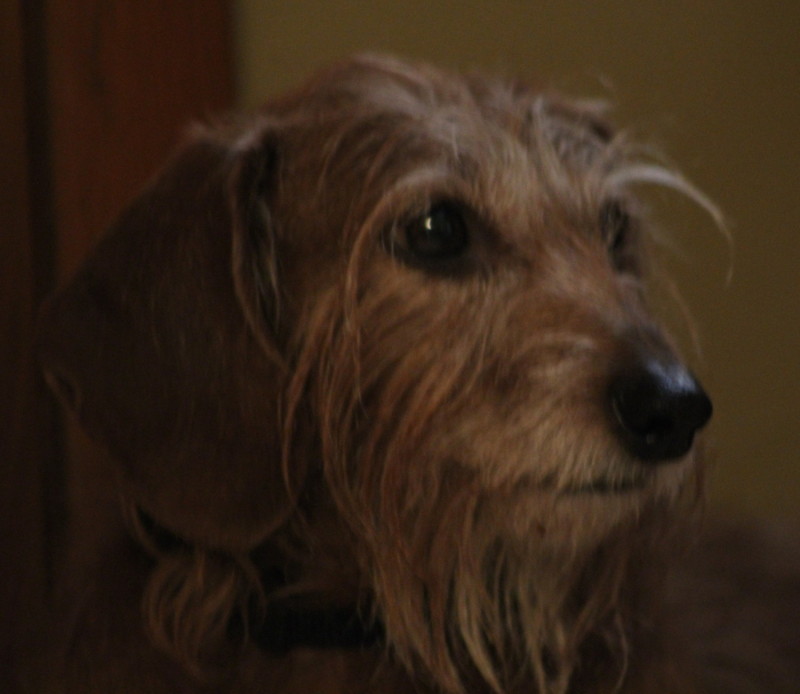 It is raining and cool in my portion of the world again today.  This time of year generally brings warm sunbeams in which I can bask, but this year, I'm experiencing a decided lack of bask-worthy options.  Because of this unseasonably cool, wet weather, I am in great need of a Nook.  In this old photo, I am warming myself in front of a lovely Nook.
This picture was taken a few years ago … when my Daddy and Mama Dog cared about me.  About the time new furniture started appearing in my family room, my precious Nook disappeared.  I heard Daddy Dog tell Mama Dog that the "heating element" had "gone out" on my Nook and was a "fire hazard."  Pffft.  What nonsense!  What followed were two or three years of frigid winters – without a Nook.  I say two or three because I can't tell exactly.  When you're so terribly cold, it's hard to keep track of linear time.  Anyway, I was without a Nook and it was dreadful.
Then, one day, after one of their extended shopping trips in the "City," I saw Daddy Dog carry a box boasting a picture of a Nook into the house, then disappear into the basement.  It never materialized in the family room.
Now.  I've been to the basement.  The Big Kid carried me down one chilly afternoon to snuggle in his chair and watch television. (I believe it was a dachshund-mentary on the American Revolutionary War, on which subject I have a tremendous amount of knowledge.)  I realized the basement was not, in fact, a repository for cats (despite noises emanating from there which would indicate otherwise).   It was actually pretty plush:  The Big Kid and Little Blonde Girl have bedrooms down there and they have clearly nested.  There are comfy chairs with pillows and blankets, twinkle lights (which really make me look fabulous), and … an enormous Nook!  Big Kid was quick to point out that this wasn't an actual Nook, but a furnace that heated the entire house.  But it certainly looked like a Nook.  Anyway, I determined the basement was a safe zone for a small dachshund and have returned many times to explore on my own.
On one such exploration, I discovered the mysterious vanishing Nook … in its box, hidden away in a dark corner of the storage room.  Why on Earth was it not upstairs where I could have access to its comforting, healing warmth??  I immediately questioned the Mama Dog, but her response was most unsatisfactory.  She gave me some gobbledy-gook about there not being space in the family room for a Nook, and that maybe when the house was remodeled the Nook would be installed.  Pffftt.  She tried to appease me by making a new soft blanket for the Family Bed.  But I'm not that easy.  Then she tried to further explain that she had only purchased a new Nook because it was on sale and she got such a great deal on it that she couldn't possibly pass it by.  She was saving it for later, she said.  PFFFTT!  She hates me and wants me to die.
So here I am today, during one of the coldest spring seasons in history … freezing, shivering, suffering because "there's not space for the Nook at this time."  Ridiculous.   Hateful.  Mean.  I have tried in vain, with plaintive, baleful looks and general snubbery, to express my extreme displeasure over this untenable Nook situation.  But Mama Dog is standing firm – no Nook until the house is remodeled.  Pfft.
In conclusion, let me warn each and every one of you that if there's a Nook in your home, appreciate it.  Lie in front of it as often as possible, even though the threat of over plush-ing looms near.  Do not, even for a moment, take it for granted for a Nook is a precious thing and fleeting in its warmth.  If you do not have access to a Nook, seek out a hot blanket, a powerful sunbeam or even one of those furnace-thingies.  I do not know how much longer I will be able to survive to tell my tale of woe in this Dachshund Spring.  But until I am silenced forever by the cold, I will continue to promote Nook Neutrality.  Stay warm and thank you for your support.