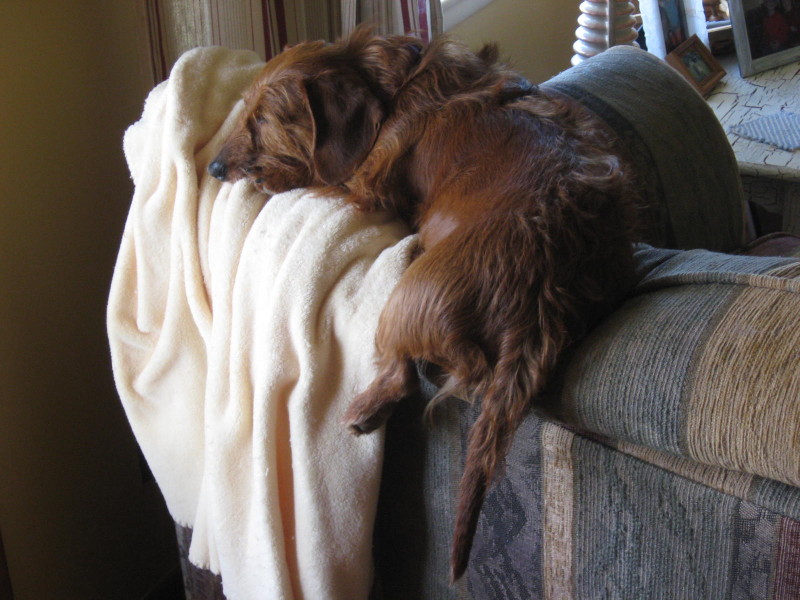 I realize it's been some time since my Independence Day post.  I have been struggling with such fatigue and have found it most difficult to manage both my duties within the Family Bed and my obligations to you, gentle readers.  Additionally, my Mama Dog has been in desperate need of a Social Secretary – someone to screen visitors and make appointments with other family members – and I simply could not refuse to offer her my assistance. It's a rather mundane job, but my work with troubled Companions has made me specially suited to the task.
I have been resting as much as possible, though I am still deeply, deeply tired from the release of my W.O.I.D. (Wrath of Irish Dachshund) over the Fourth of July holiday.  An unexpected water outage on the 4th delayed the actual celebration until the 5th.  Bachmann swears he had nothing to do with the leak in the water line, but I don't believe him.  Forcing the celebration to be held on the anniversary of the Battle of the Manolada in 1316 is just too much of a coincidence.  Bachmann is well known to have a fetish for the Infante Ferdinand of Majorca, and any opportunity he can find to dredge up that old chestnut … well, he takes it.  If I have to hear him rant about how Ferdinand was robbed of his rightful claim to the Principality of Achaea, I'm going to boil his macaroni art.  Gah …
Even though my family's celebration was a day late, it was no less spectacular.  I'm told the grilled hamburgers were quite tasty.  As I wasn't given the option of trying one for myself, I must go with popular opinion on that subject.  I tried to preserve my strength as much as I could during the day, anticipating the release of my W.O.I.D. later on.
Once the fireworks began, I was able to put out a prolonged and impressive display of Irish Dachshund power.  Here I am in the initial phase of W.O.I.D. release.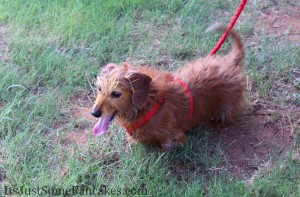 Note my upright, curled tail position and the focused intensity in my face.  This is classically perfect form.  I am leaning slightly forward on my Fraunches, allowing for more flexibility and torque in my rear quadrants.  If Daddy Dog had not insisted on that ridiculous and heinously unflattering harness, I would have had the fireworks by the throat.
Here I am, approximately mid-release.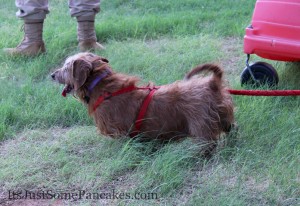 In this image, I am in a relaxed, yet alert and ready position.  My tail is still elevated, signaling my preparedness for the battle.  My haunches are flexed and in a widened stance, which gives me a powerful leaping ability.  Again, the wretched harness is clearly holding me back and diminishing my impact.
The wind began to blow quite hard shortly after the mid-point of the fireworks display and Daddy Dog declared that we would be stopping for the night.  But I was able to release the final vestiges of my W.O.I.D. before everyone dispersed.
This photograph captures me in meditation as I prepare myself for the recovery period.  This process is crucial to my mental and physical well-being.  Had I known Mama Dog was filming, I would have looked away, as it is a very private moment.  But I'm choosing to share it with you, dear readers, in the hopes that you can gain further understanding into the mind of the native Irish Dachshund.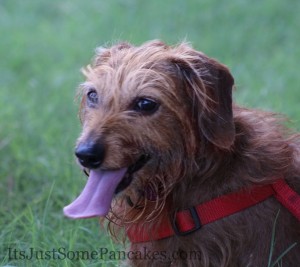 As I said, the recovery period for a total and complete W.O.I.D. release is substantial.  I am still in partial convalescence, even though I am trying to keep up with my responsibilities both to my Companions and my human family.  My humans have been most understanding  over my need to take frequent and prolonged naps.  My Companions have not.
I have found the Family Bed in complete disarray on a daily basis, despite my attempts to keep them tidy.  Je m'appelle Claude, Plato-pus, and of course, Bachmann have been the biggest culprits in Family Bed disharmony over the past few weeks.  My plan is to rest enough over this weekend and begin intensive training with them next week.  I only hope it's not too late.
Despite the delay in celebration, the utter exhaustion from the release, and the resulting chaos in the Family Bed, I am satisfied that this Independence Day will be remembered, as it should be.
Remember, dear friends, Independence is a right.  Swimming through water lines and causing breaks and leaks is not.  As always, thank you for your support.